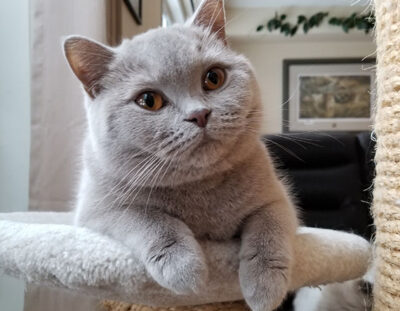 Scout
Smilingbrits Scout Of Wrighteous 
Colour: Lilac
D.O.B. : Novemer 18, 2020
Sire: TGC Napoleon of Bring Joy/WC
Dam: Patricia Pretty Penny Mary Kay
Scout is my very first British Shorthair and she is everything I had hoped for, and more. She has a lovely soft coat, beautiful eyes, the cutest little face ever and a heart of gold. She's affectionate, playful and full of confidence.
Bruno is an absolute sweetheart. He is so full of love, curiosity and mischief. He's a solid, muscular boy with an incredible thick, plushy coat. He is developing really nicely and I am so happy to have him in my family and my cattery.
Bruno
Ch British Royalty Kodiak of  Wrighteous 
Colour: Chocolate
D.O.B. : September 7, 2021
Sire: The Duke Your Honor
Dam: Mirabile Dictu Lilu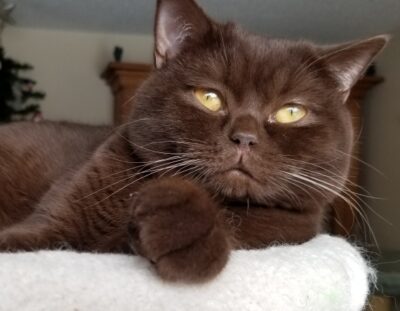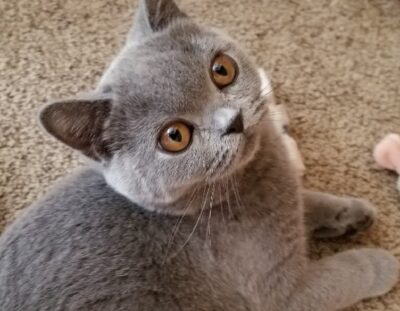 Hazel
WrighteousBrits Blue Haze
Colour: Blue
D.O.B. : April 7, 2022
Sire: Misiowe Marzenie Zein
Dam: SmilingBrits Scout of Wrighteous
Hazel is a traditional blue beauty. She is super affectionate and always purring. Her big round eyes are so full of expression and wonder. She has a semi-cobby body type and a lovely soft, dense coat. She is very easy going and gets along with everyone.
Pearl truly is a gem! She has everything I strive to produce with my breeding. She has a cobby body type, chubby cheeks, great eye colour, excellent boning, a gorgeous plush coat and an awesomely sweet and loving temperament.
Pearl
WrighteousBrits Ocean Gem
Colour: Blue
D.O.B. : April 7, 2022
Sire: Misiowe Marzenie Zein
Dam: SmilingBrits Scout of Wrighteous